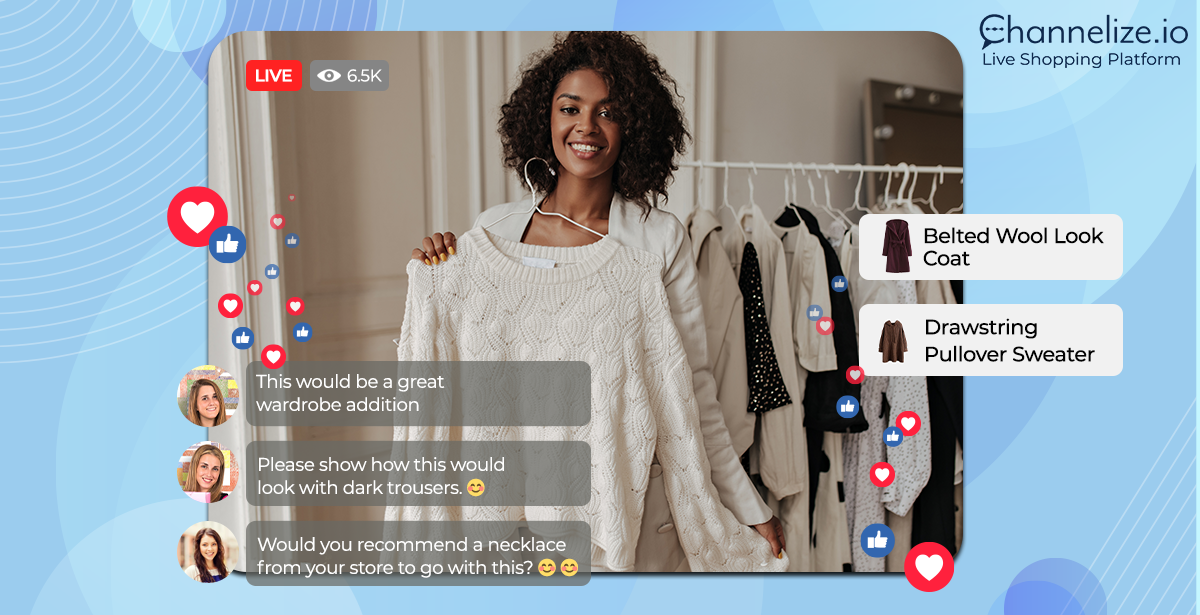 What exactly is live shopping
Live Stream Shopping is still in its early stages, with the majority of customers having yet to experience this novel approach to online shopping. Live Shopping, also known as Live Commerce or Live Stream Shopping, is an effective sale and marketing strategy that enables customers to buy a product shown during a live stream shopping show. While being a part of a Live Stream Shopping show, consumers become both observers and purchasers at the same time. Influencers are also invited to host such live shopping shows, but brands may also employ their reps or experts, etc. The whole live stream shopping event is interactive, allowing attendees to respond in real-time through comments and emoticons.
The concept of live shopping originated in Asia, especially in China, where it has become a genuine phenomenon. E-commerce behemoths introduced their Live Retail platforms, which was a huge success for the online shopping presence. Live video shopping satisfies customers' need to confirm their social standing as consumers while also providing an excuse for an enjoyable encounter. Shoppertainment is a new term that was created to properly express this hybridization of entertainment and online shopping.
Live Shopping in the USA is a novel experience that is attracting more and more customers. The success of live Commerce stems from the special connections formed between a brand and its audience. During a live shopping show, customers respond, remark, and engage with a host of a show taking the live stream shopping to an interactive level. This experience may also be seen as a hybrid of social networks and e-commerce, referred to as social commerce or social retail. Some Chinese Key Opinion Leaders or influencers specializing in Live Shopping, chosen for their personalities, have seen their popularity skyrocket in recent years.
In China, Live Shopping accounts for more than 10% of e-commerce and is expanding at a rate of 280 percent each year. Sales in the Chinese market are expected to reach 423 billion dollars by 2022, according to reports. In the Western market, Live Commerce is on the rise and expanding fast. Live Shopping in the USA is gaining traction, and companies are becoming more interested.
Live Shopping as a Digital Transformation Challenge
Live Video Shopping is well-matched with this environment of digital change and consumer interaction. According to a study, 88% of Millennials and Gen Z are interested in Live Video Shopping. This new sales channel is ideal for their pursuit of a great client experience, both digital and personal. Live Shopping emerges as a new digital sales channel that complements the e-commerce experience. Brands view Live Shopping as a new arrow in their quiver, with the potential to create additional income while reducing dependence on physical sales channels. As a consequence, Live Video Shopping is being utilized to help businesses improve their omnichannel strategy.
How can companies provide the greatest Live Shopping experience possible
Many companies and merchants in the United States and Europe are investigating the Live Commerce revolution. Livestream shopping is especially well-suited in these industries:
Beauty and cosmetics
Fashion and jewelry
Consumers Electronics
Household appliances
Food and beverage
Sports and fitness equipment
Furniture and home decor
Live-streaming shopping platforms may be used by brands that want to sell live to an online audience. The benefit of a reliable live video shopping platform is that it provides marketers with a D2C channel with much more strategic control. It is a solution that changes the digital customer journey and provides a competitive edge to businesses.
In summary, Livestream shopping is an impactful sales channel that often requires professional assistance. Everything matters in Live Shopping. It covers the whole purchasing process as an experience. Following are some examples of recommended practices to consider:
Before the live stream: Create marketing campaigns to create curiosity for your live shopping show. During a live stream shopping show, interact with the community and manage the discussion using established and stated ground rules. During a show promote your products and engage with customers.
Although Live Shopping in the West is still in its early stages, there is tremendous potential for it to grow. Hence, Livestream shopping is poised to transform the consumer experience for businesses. Our goal at Channelize is to eliminate barriers for businesses and provide them with a simple live shopping platform that is quick, fast, and reliable. Get started, now.
Also read about:
Top Reasons to Move Your Business Accounting to the Cloud
Best Free Countdown Timer Apps For Android
How to Boost Sales with Countdown Timer