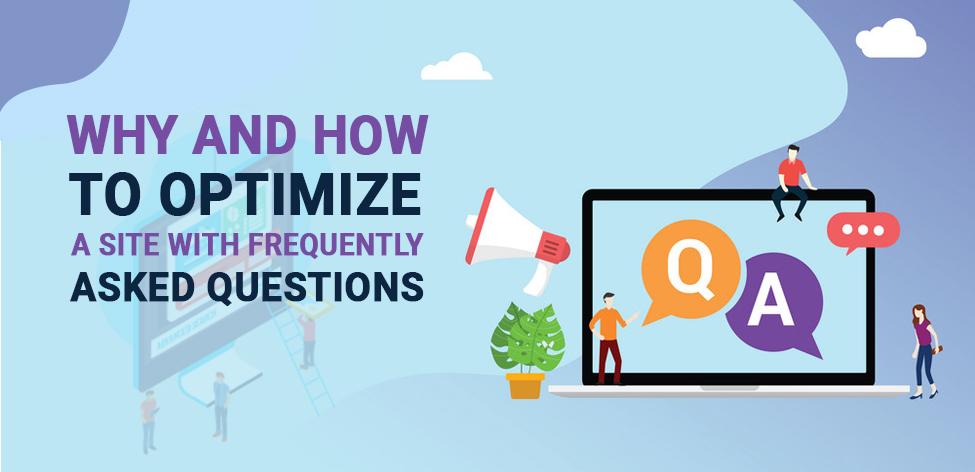 SEO, as we all know, is one of the most powerful and frequently used digital marketing tactics used to the present date. It not only guarantees enhanced traffic towards your website but also increases the likelihood of generating more potential customers. However, an effective SEO revolves around providing the answers to the questions for which the searchers are looking. Figuring out the questions about any keyword for which the searchers are rigorously seeking the answers is very crucial in such a scenario. The evolution of voice search has made the task even more challenging for content writers as the way people are likely to perform a voice search is mostly unpredictable.
Why Optimize A Site For Frequently Asked Questions And Answers?
Optimizing your site for the most frequently asked questions and their answers offer a range of benefits including
Enhancing your page ranking in the SERPs.
Achieving an enhanced user experience.
Showcasing your extent of expertise about the given keyword.
Driving more traffic towards your website.
Gaining more potential customers.
How To Identify Questions And Answers
Looking at the above benefits, the biggest question that is expected to arise in your mind is - how to come up with the most effective and fruitful questions for which the searchers are exploring the answers. Well, there is a range of tools and techniques available that emerge as a relief. These tools and techniques can aid you to figure out the relevant questions connecting to the targeted keywords in either one way or the other. Let's discuss this in detail
Also read about: How Is SAP Basis A Perfect Career Opportunity
Google Search Console
The very first on the list is Google Search Console. It is a web service provided by search engine giant Google that enables website owners to keep a check and improve the visibility of their websites over the internet. The tool also enables you to check the security issues associated with your website and avails you with site speed reports that can ultimately help you to enhance the overall user experience.
People Also Ask & Also asked
People Also Ask and Also asked are the sites that enable you to easily find out the frequently searched queries about any keyword just by typing the keyword in the search box. These are free and easy-to-use sites that you can utilize to unlock a list of such questions in which your audience is the most interested.
Google Trends
It is a website by none other than Google that presents the demand for a search query across various regions and time frames in the form of a graph. You can utilize this site to determine how frequently a search has been performed on a specific keyword over a given period.
Google Search Operators
A variety of special characters and commands such as (), OR, -, *, etc. are available nowadays to enhance the capabilities of a text search. These are nothing but Google Search Operators. These operators can play a significant role in enhancing your content research as well as technical SEOs.
Forum Platforms
The utilization of forum platforms such as Wix, phpBB, myBB, etc. to connect with the community and get the answers to your queries from compatible people has become a common practice nowadays. These platforms can prove to be very beneficial for the person looking to find out the common questions about any topic.
Effective Tools To Find Out The Searchers Questions
Keyword tool
A keyword tool is an amazing tool that enables you to find out the long tail and related keywords about a given search term. The tool is very helpful to uncover the frequently searched phrases about any keyword using with you can easily come up with effective and SEO Optimized content. The tool serves as an excellent alternative for the most commonly used Google keyword planner and the other relevant tools.
SEMrush
SEMrush is an outstanding marketing tool that you can utilize for a variety of purposes including SEO, advertising, social media, competitive research, and so on. Although the tool is not free of cost to use, it does offer a free trial that you can use to check the capabilities of the tool before making a purchasing decision.
MOZ
MOZ is yet another powerful SEO tool that you can utilize to enhance the rankings and search engine visibility of your website. The keyword explorer feature of the tool enables you to find out several traffic-driving keywords or phrases just by entering a term or the associated URL in the given search box. The biggest drawback associated with the same is you can not utilize the tool unless you create a MOZ account which, sometimes can be time-consuming and irritating when you are in a hurry and don't have too much time to give.
Ahrefs
Ahrefs is a tool capable of offering a variety of services including optimizing your website, tracking your rankings, analyzing the competitors, and so on. The tool also serves as an excellent keyword explorer capable of uncovering what exactly your audience is looking for, providing thousands of keyword suggestions, and much more. The only drawback associated with the tool is it is not at all free to use and you are required to spend some amount even if you want to utilize its trial version.
Answer the public
Answer the public is yet another effective tool that aids you to discover almost all the questions the searchers usually ask about a keyword. The tools present an outstanding visualization of data and permit you to save the data by exporting it to a CSV or an excel file. The tool is super easy to use and provides free as well as paid plans from which you can choose as per your budgets and requirements.
Search metrics content experience
The search metrics tool enables you to enhance your overall search performance by aiding you to optimize the quality of your content. No matter you want to search the relevant topics, guarantee the uniqueness of your content, or want to check the quality of your content, the tool serves as an excellent option.
Apart from the above tools, you can make use of social media platforms such as Facebook, Twitter, and Pinterest to better know what's trending in the market and come up with excellent content ideas, you can make use of youtube and check the trending video section to know what is popular in the current times, you can even utilize Wikipedia and so on.
How To Optimize Your Website For Questions And Answers
Now, once you have made a list of questions, the second thing you need to understand is how you can utilize these questions for the betterment of your SEO activities. Well, there are several different ways of doing so or you can also hire a WordPress expert to optimize your WordPress website for questions and answers. Let's have a brief look at some of them
Adding a separate FAQ section to your website
One of the most effective and powerful ways of answering searchers' questions is by adding a separate FAQ section on your website. This helps your target audience to find the answers to almost all the questions relevant to a keyword quickly and in one place. This can aid them to make a quick purchasing decision that eventually brings new potential customers for you. In WordPress, several different plugins are available to make you perform your job easily and in a better way.
Adding a blog section to your website
Another effective way to provide searchers with the answers to their questions is to create blogs or articles stuffed with the answers and publish them on your website. Publishing blogs on a website regularly is also a very powerful way to uphold the enthusiasm among your audience and bound them to visit your website again and again by providing them useful information about any topic clearly and compactly.
The Final Words
Looking at the vast number of websites present on the internet, search engine optimization is something that no website can overlook to avoid. However, performing SEO activities just for the sake of performing is not all that will give you adequate results and traffic towards your website you are always required to be very prompt and aggressive about your efforts and need to make sure whatever you are doing, are doing in the right manner and the right direction.